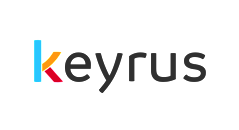 UNITED STATES (NEW-YORK )from 01 octobre 2022 to 01 octobre 2023 (12 months)COMPANY : KEYRUSMonthly pay : 3648 € (non-contractual compensation set by decree and order, which amount may vary in particular depending on changes in the reference scale, the location of the assignment and the cases of reductions provided for by the texts)La mission est-elle pour moi ? Vérifiez que votre situation répond aux conditions d'accueil du pays.
POSITION AND MISSION
Nous recherchons donc un Développeur Analytics Senior pour rejoindre notre équipe Keyrus US ! En tant que membre de l'équipe Keyrus, vous combinerez votre sens des affaires et vos connaissances statistiques avec de solides capacités à résoudre des problèmes et analyser de grands ensembles de données afin de fournir des résultats perspicaces et exploitables à nos clients. Vous jouerez un rôle clé auprès de nos clients afin de leur proposer des solutions en business intelligence et d'ETL pour gérer leurs actifs de données. Vous travaillerez directement avec nos clients pour ajouter de la valeur à leur environnement de data intelligence en utilisant les outils d'analyse les plus avancés de l'industrie tels que Qlik, Snowflake, Tableau, Power BI, Alteryx, Talend, etc. Vous serez responsable de l'ensemble de la solution d'analyse de bout en bout, de l'ingénierie, de la manipulation et du nettoyage des données back-end à la visualisation des données front-end. English version : This role will play a key role in providing our clients with business intelligence and ETL solutions to manage their data assets. You will work directly with our client's business to add value to their data intelligence environment using the industry's most cutting-edge analytics tools such as Qlik, Snowflake, Tableau, Power BI, Alteryx, Talend, etc. You will be responsible for the entire end-to-end analytics solution, from backend data engineering, manipulation, and cleansing, to front-end data visualization.
THE IDEAL PROFILE
Au minimum 4 ans d'expérience en tant que business intelligence developer, data warehouse developer, database developer, or ETL developer Bonne connaissance de la base de données relationnelle (SQL, Oracle, etc.) Capacité à effectuer le mappage des données, le mélange et la conception ETL à l'aide d'Alteryx ou d'outils ETL associés tels que SSIS, Informatica, Talend, DataStage, etc. Une bonne connaissance des meilleures pratiques d'utilisation de Qlik ou Snowflake est un plus La connaissance des meilleures pratiques utilisant Tableau, Power BI ou tout autre outil de BI est un plus Expérience de travail avec des équipes commerciales pour traduire les exigences fonctionnelles en exigences techniques Un minimum d'un baccalauréat en informatique ou une expérience connexe sera considéré Niveau d'anglais bilingue obligatoire English version : At least 4+ years of experience as a business intelligence developer, data warehouse developer, database developer, or ETL developer Experience working with a relational database (SQL, Oracle, etc.) Ability to perform data mapping, blending, and ETL design using Alteryx or related ETL tools such as SSIS, Informatica, Talend, DataStage, etc. Strong knowledge of best practices using Qlik or Snowflake is a plus Knowledge of best practices utilizing Tableau, Power BI, or any other BI tools is a plus Experience working with business teams to translate functional requirements into technical requirements Minimum of a Bachelor's Degree in IT or related experience will be considered
FURTHER INFORMATION
REFERENCE : VIE173670Publication date : 13 mai 2022Expiration date : 11 octobre 2022CONTACT OFFER : Lisa Chemouny
Workplace & Culture
We have a dedicated team of employees who volunteer to organize regular social events, from happy hours to trivia nights. Want to learn more about life at Keyrus? Check out our benefits and perks.
Already working at Keyrus USA?
Let's recruit together and find your next colleague.